What do you think about dementia?
Friday 24 May 2019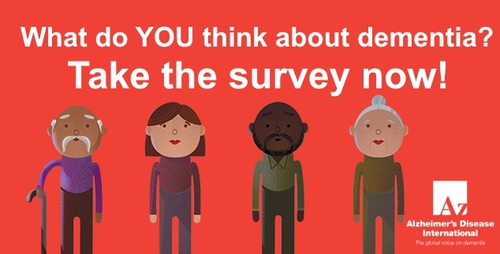 A new survey has been launched which looks to find out more about people's attitudes towards dementia around the world. The study by Alzheimer's Disease International (ADI) is thought to be the largest survey of its kind in dementia research so far, and is open to:
the general public
health and care professionals
people living with dementia
carers of people with dementia
The results of the survey will form the basis for the World Alzheimer Report 2019, to be released in September. From far and wide, people with an interest in dementia have been taking part in the 10 minute survey which will benefit people with dementia all over the world. The survey is fully anonymous, accessible and available both online and offline in multiple languages.
ADI believes that the key to winning the fight against dementia lies in a unique combination of global solutions and local knowledge. It works locally, by empowering Alzheimer associations to promote and offer care and support for people with dementia and their carers, while working globally to focus attention on dementia. ADI would like this to be the world's biggest survey on attitudes around dementia, so are encouraging as many people from as many countries as possible to participate.
If you would like to take part in the survey please click here. You can also help by spreading the word via email and social media to anyone who may have an interest.