Dementia experts gather for Dementia Awareness Week
Monday 3 June 2019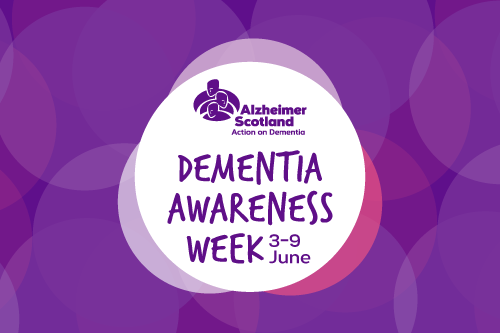 Scotland's Dementia Awareness Week gets underway today (3 June) with Alzheimer Scotland's Annual Dementia Conference held at the Edinburgh International Conference Centre (EICC). The unique gathering will bring together world-leading researchers, academics, practitioners and policy makers alongside people living with dementia and their carers to explore new dementia advances being led from Scotland.
The conference will feature talks from experts on a range of topics - including advances in dementia research, brain health, prevention, and the very latest innovative supports being used to care for people living with dementia. The event will hear from Scotland's Mental Health Minister Clare Haughey on the Scottish Government's latest dementia priorities and will feature talks from The Centre for Dementia Prevention at the University of Edinburgh, Alzheimer Scotland Centre for Policy and Practice from University West of Scotland and the National Institute for Health Research.

As the leading dementia charity in Scotland which campaigns for the rights of people with dementia, the conference will open with a unique performance from Alzheimer Scotland's 'Every Voice' dementia-friendly choir with opening words from husband and wife, Danny and Catherine McDonald, who are living with dementia and who both actively campaign for the rights of those living with dementia, their family and carers.
Danny McDonald (55), diagnosed with early onset dementia and member of the Scottish Dementia Working Group (SDWG), said: "It is a great privilege to talk at Alzheimer Scotland's annual conference to mark the start of Dementia Awareness Week. Three years ago, I was diagnosed with vascular dementia. It was very difficult as we had two teenage children at home and our lives changed significantly, almost overnight. One of the biggest adjustments for me was having to give up my driving license and feeling I was somehow losing my identity.

"My diagnosis was a shock but there have been many positive experiences since. I have new friends and many of them from my local dementia friendly choir which always leaves me feeling much brighter. If a cure was found today for dementia it wouldn't benefit me but It would benefit my children and future generations. I very much hope for that."

Welcoming Scotland's Dementia Awareness Week, Henry Simmons, Alzheimer Scotland's Chief Executive, said: "With over 90,000 people living with dementia in Scotland and the number on the rise, Alzheimer Scotland is collaborating with leading researchers in Scotland and internationally to look more closely at dementia prevention, better care and breakthroughs in treatments. Today we open Dementia Awareness Week, by gathering leaders in research and care to set a movement for change in motion for people living with dementia now and in the future.
"Dementia Awareness Week gives us the chance to put dementia firmly in the spotlight to help break down the stigma of a dementia diagnosis and raise awareness of the latest supports and care available in communities across Scotland, made possible thanks to our generous supporters who continue to raise vital funds for the support we deliver.
"Research is informing us more about dementia prevention, how to improve the quality of life of those living with the illness and will ultimately help to find a cure. If you do just one thing this week for Dementia Awareness Week sign up to Join Dementia Research to help Scotland build the largest cohort of willing research participants as possible and start your journey to help us transform our understanding of the illness."

Professor Martin Rossor, National Director for Dementia Research, National Institute for Health Research, said: "I am delighted to be attending Alzheimer Scotland's Annual Conference on the first day of Dementia Awareness Week. It will be an opportunity to look into the future and discuss how we can best engage people in research and ensure that those who are affected by dementia can help prioritise the questions we need to answer.
"Join Dementia Research, a partnership between National Institute for Health Research (NIHR), Alzheimer Scotland, Alzheimer's Research UK and Alzheimer's Society, is making big strides towards increasing awareness of how to engage in research, with over 40,000 people now registered. However, more must be done to link researchers with the general population and people with mild cognitive disorders. Today, we call on the pubic to sign up to take part in research, so that we can carry out vital research on dementia prevention."
Alzheimer Scotland is urging everyone to get involved with Dementia Awareness Week (3-9 June 2019);
Join the Dementia Awareness Week conversation on Twitter with @alzscot using #DementiaAwareness.