2 million minutes of Helpline support
Wednesday 17 July 2019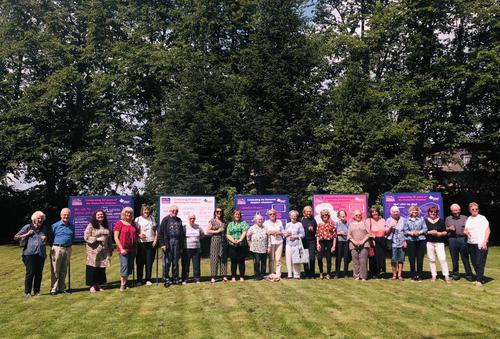 Friday 12 July marked a very special milestone for our 24-hour Freephone Dementia Helpline: the crucial support service has now been providing support and information for 30 years.
At our anniversary celebrations in Perth we invited the 55 active volunteers who give support over the phone to anyone who needs advice and information about dementia or simply someone to talk to.
Over the past 3 decades, our Dementia Helpline has received more than 110,000 calls and provided a phenomenal 2 million minutes of support. It's a great achievement and we are so happy to share this with everyone involved who made this happen.
The anniversary event saw volunteers and staff have a BBQ in the sunshine, with entertainment from ukulele group Dee Ukes. Refreshments served on the day included Pine Needle Syrup, which was also showcased on BBC programme Spring Watch by our Inverness Tipi support group who showed the importance of being outside while they created the refreshing drink. The event gave the opportunity for Alzheimer Scotland to thank all of the amazing volunteers for their hard work and dedication over the past 30 years.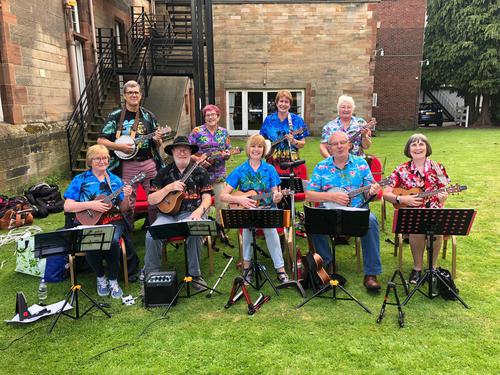 Rebecca Stachura, the newest and youngest member of the Helpline volunteer team, said: "I'm so proud to be part of the Dementia Helpline team. Taking a step into volunteering was important for me as I wanted to be part of something bigger than myself and it really has exceeded all my expectations. My gran had dementia when I was younger so that was a big factor for me as I wish I had done more at the time.
The 23-year-old continued, "Volunteering around my studies and now full-time position has been a good way for me to give back as well supporting my career development. I've already learned a lot since becoming a helpline volunteer earlier this year, I think the biggest thing is listening skills and at the end of some calls you can really sense that you have made a big difference, often just from listening."
Jennifer Hall, Alzheimer Scotland's Helpline Manager, added: "It has been a real honour to take over the reins of the Dementia Helpline in the last year and I'm thrilled to be able to celebrate 30 years with our team of highly skilled volunteers.
"Our wonderful volunteers are all so dedicated to helping us to make sure nobody faces dementia alone and collectively help us to provide callers with a voice at the end of the line at any point in the day or night. We can't provide advice but what we can do is listen, understand and signpost callers to areas where they can access more support."
If you have any questions about dementia, or about the support available in your area, call Alzheimer Scotland's 24-Hour Freephone Helpline on 0808 808 3000 today.
The Helpline can provide information right away on many questions or concerns and can also send out free information to carers, family members or people with dementia. The helpline also has access to expert advisers who can help answer more complex enquiries.
If you would like to volunteer for Alzheimer Scotland's 24-hour Freephone Dementia Helpline, contact Jennifer Hall on [email protected]. For details of all volunteering opportunities please click here.