Raising dementia awareness at Edinburgh Fringe Festival
Thursday 25 July 2019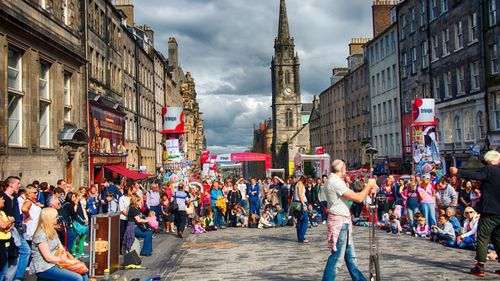 Every year for the first three weeks in August, Edinburgh is taken over by thousands of performers putting on a variety of shows to suit all tastes and all ages. From theatre and comedy to dance, circus events and hard-hitting dramatizations, there's usually something for everyone.
We've put some of the performances taking place this year highlighting and promoting dementia awareness:
This show is a contemporary dance piece based on the book 'Keeping Mum' by Marianne Talbot. It's a true story about her caring for her mum who had Alzheimer disease. The show creator's goal is to raise awareness of dementia through their performances.
A one-woman show exploring the therapeutic benefits music can have for people living with dementia. The show is about a woman whose job it was to deliver wartime aircraft from the factories to the RAF bases during World War II. Throughout the play her memories and reminiscence are triggered by music.
Adventures in Dementia – Steve Day:
Steve's dad had Alzheimer's but is sadly no longer with him as he passed away. Having been deaf since his teenage years, Steve has recently rediscovered the music he loved to listen to with his dad thanks to his new hearing aids. He shares the story and memories of his dad from comedy, songs and laughter.
Xiao's grandma lives with dementia and the stigma of a diagnosis has left her isolated from her community. In a 'journey crossing time and space' based in a 90s small town in South China, the audience follows Xiao's journey to rediscover her grandma, as well as her own identity. Through the fragments of Xiao's dreams, and the voice of her grandma's reading her childhood bedtime story, Xiao explores what home means to her to discover what makes her who she really is.
Set in a run-down Manhattan apartment in Chinatown, the Blake family gather for Thanksgiving. A story about family life and changes both in and outside of the family home. Follow grandmother Fiona, who is living with dementia; Brigid, the musician and Aimee, a lawyer living in Philadelphia.
Two actors play multiple roles that have the audience laughing, crying and singing their hearts out. Inspired by the author's experience caring for his mother-in-law when she was living with dementia.
Please note: these shows are a highlight of related events taking place at the Edinburgh Fringe and are not an endorsement by Alzheimer Scotland or connected to the charity in anyway. Looking for activities and events run by Alzheimer Scotland? Check out support activities in your area.