Go #TeamAlzScot!
Last year, I was part of the volunteer team who helped everything run smoothly for the Alzheimer Scotland runners at the Edinburgh Marathon Festival (EMF).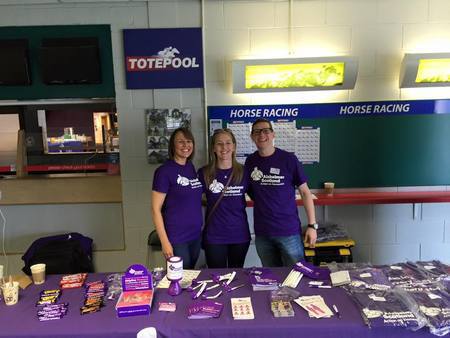 I decided to get involved because a friend asked me to sign up. I don't think you'll ever get me to run a marathon, so I saw volunteering on the day as a good way to support the charity and say thanks to all the amazing runners who were out there making a huge effort to raise money for Alzheimer Scotland.
There was a great atmosphere at the finish line. Loads of people had turned out to cheer on their friends and family. We were a rowdy bunch making sure that every single Alzheimer Scotland runner got an impressive welcome on the home strait. They're all heroes in my eyes!
I also helped out at the tent in the charity village where we had space for tired runners to have a seat, a cuppa, a chocolate bar and a chat about what running for Alzheimer Scotland had meant to them. We made sure they got a goody bag and took photos of them with their friends and family to celebrate them making the finish line.
I know that Alzheimer Scotland relies on donations from sponsorship. Being able to thank all the people who put in time and effort to training for the EMF and making them feel special was a real privilege. There was brilliant camaraderie and a really festive vibe. I'd definitely recommend volunteering at the EMF to everyone.
Carol Barnes (Alzheimer Scotland volunteer)