Dementia Advisors and other local advice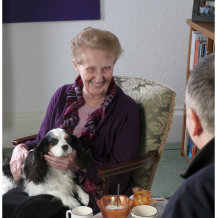 Alzheimer Scotland believes that no-one should go through dementia on their own.
Alzheimer Scotland funds local Dementia Advisors, who support people with dementia, their partners, families and carers. They also work with local communities.
Your local Dementia Advisor can:
provide information and advice
help you find the dementia support that you need
connect you to local groups and services
help your local community be more dementia-friendly
help you influence the policies and services that affect you.
In some areas we have Resource Workers or other staff who can provide you with information, advice and support.
Use the search above to find a service near you. Below is a list of all Alzheimer Scotland's services