Dementia cafés and community activities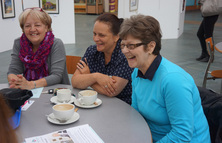 Dementia cafés offer a 'dementia friendly' place for people with dementia, their partners, families and friends to meet up for a chat and a coffee. You can also get helpful information or advice about any issues relating to dementia from Dementia Advisors and other staff.
Alzheimer Scotland offers a wide range of welcoming community activities across Scotland, such as singing groups, Football Memories groups, walking groups, cinema groups and much more.
Use the search above to find a service near you. Below is a list of all Alzheimer Scotland's services