Dementia Nurse Consultants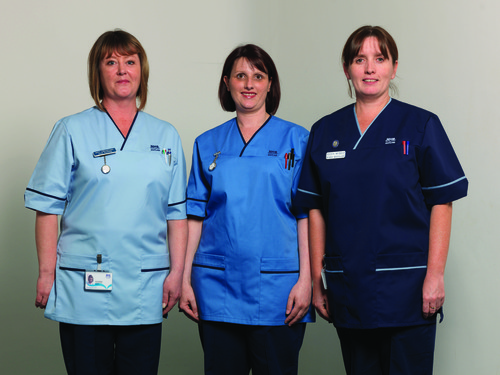 Why is this work so important?
We know that a hospital admission can be a very stressful time. We also know that people with a dementia diagnosis are more likely to be admitted to a general hospital, and stay longer, than someone without a dementia diagnosis. That's why over the past eight years, the Alzheimer Scotland Dementia Nurse Consultants have driven forward a wide range of improvements, such as embedding individual preferences and needs in care plans, making sure families and unpaid carers are involved in care, creating ward environments that are welcoming to people with dementia and ensuring that staff have the right skills and knowledge to offer the highest level of care.
The Alzheimer Scotland Dementia Nurse Consultants also work closely with many other professionals and services, including almost 1,000 Dementia Champions who are now trained to deliver skilled dementia care. The Dementia Nurse Consultants have a clear vision for the work that they do and regularly meet as a group to drive forward national improvements and policy. An example of this being the widely used 'Getting to Know Me' personal profile document – used to help hospital teams better understand the needs and wishes of a person with dementia – which was developed and promoted by our Dementia Nurse Consultants.
Resources from Alzheimer Scotland's Dementia Nurse Consultants:
Alzheimer Scotland's Dementia Nurse Consultants:
Susan Holland – NHS Ayrshire and Arran
Christine Proudfoot – NHS Borders
Julie Garton – NHS Dumfries and Galloway
Lyn Irvine – NHS Grampian
Helen Skinner – NHS Fife
Nicola Wood – NHS Forth Valley
Tilda McCrimmond – Golden Jubilee and NHS 24
Sandra Shields – NHS Greater Glasgow and Clyde
Ruth Mantle – NHS Highland
Helen Fox – NHS Lanarkshire
Colin MacDonald – NHS Lothian
Gillian Coghill – NHS Orkney
Alan Murdoch and Stephen Mullay – NHS Shetland
Andy Shewan – NHS Tayside