Learning to live well with dementia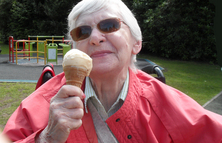 Dementia can bring many challenges, both for the person with the diagnosis and for those close to them. Attending a course or a workshop can help you learn how to live as well as possible with dementia, at any stage of the illness.
Come along to a local course or workshop to learn how to:
manage symptoms
find practical solutions to problems
cope with money and legal issues
manage stress
find help and support
and much more.
Some courses are for people with dementia, some for partners, families and carers and many are for both together. They are enjoyable and interactive, and as well as learning lots you will be able to get to know other people and share experiences.
Use the search above to find a service near you. Below is a list of all Alzheimer Scotland's services