Personalised support services
In many areas of Scotland Alzheimer Scotland provides personalised support services (sometimes called home support). We offer specialist one-to-one support for people with dementia who are at any stage of the illness.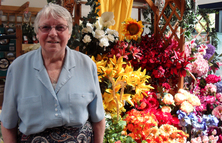 Our skilled managers work closely with the person and as appropriate their partner, carer, family and significant others to plan the right support for them. The support will be based on their choices, interests and needs, to assist them to live well with dementia and achieve the outcomes they want.
Our highly trained support workers or personal assistants work with each person at home or out and about in their community. They support people to:
maintain their confidence, skills and independence
stay involved in their community
keep doing things they enjoy doing
manage everyday activities, including help with personal care tasks.
We will support people to develop memory assistive techniques, plan structures to their day and maintain their social networks. Supporting people to carry out activities themselves - 'doing with' rather than 'doing for' - is central to how we work.
How do I access personalised support services?
You may be referred to Alzheimer Scotland by your social work department, or you can use Self-Directed Support or your own resources to purchase personalised support from us .
Use the search above to find a service near you. Below is a list of all Alzheimer Scotland's services