Recently diagnosed?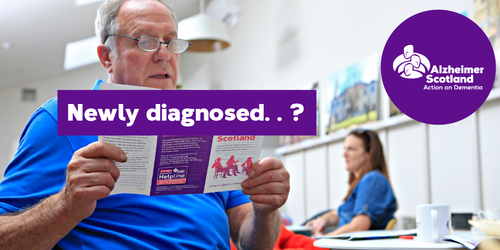 If you, or someone close to you has recently been diagnosed with dementia, there is support available.
Your right to support
The Scottish Government has guaranteed a year's post-diagnostic support for everyone diagnosed with dementia from April 2013.
What is post-diagnostic support?
There are five key aspects of post-diagnostic support which will help you to:
understand the illness and manage your symptoms
be supported to keep up your community connections and make new ones
peer support - have the chance to meet other people with dementia and their partners and families
plan for future decision-making
plan for your future support.
How do I access post-diagnostic support?
In many areas this is provided by Alzheimer Scotland's Dementia Link Workers on behalf of the NHS. In other areas post-diagnostic support is provided by NHS staff.
You can ask your doctor to refer you for post-diagnostic support, or use the search box on this page to find out if Alzheimer Scotland has a Dementia Link Worker or other post-diagnostic support in your area.
More information