Annual Winter Lecture 2018
Details
Date

10 Dec 2018

Location

The Old Fruitmarket, City Halls, Candleriggs, Glasgow, G1 1NQ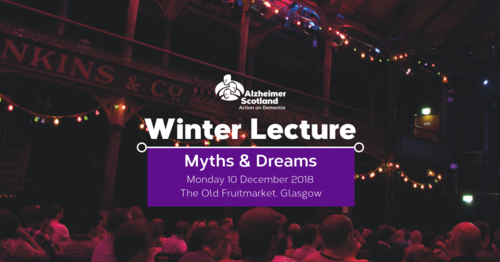 Doors open at 5:30pm
Lecture from 6 – 7pm
Everyone is welcome to join us for our 2018 Winter Lecture - "Myths & Dreams" - to be delivered by Professor Karen Ritchie, Research Director, French Institute of Medical Research (INSERM).
What is the lecture about?
Myths & Dreams
We ended the 20th Century with the popular legend that Alzheimer's disease is normal brain ageing, it cannot be prevented, it cannot be cured. But thanks to the recent work of research laboratories and studies, scientists' view of the disease is rapidly changing, taking us into exciting new approaches to diagnosis and treatment, the dream of the 21st Century.

Professor Craig Ritchie, Chair of the Psychiatry of Ageing and Director of the Centre for Dementia Prevention, the University of Edinburgh, will also give a short presentation.
For the first time, this year's lecture will take place in the beautiful Old Fruitmarket, in Glasgow's Merchant City.

Ticket sales have now closed for this event.
If you have any queries please email [email protected] or call 0141 410 0104.
Location
The Old Fruitmarket, City Halls, Candleriggs, Glasgow, G1 1NQ