Training
Alzheimer Scotland offers bespoke training that will help you or your organisation to grow your knowledge of dementia; improve your communication and engagement with people living with dementia and develop your dementia practice and care.
Training designed for just what you need can be delivered where you are or in our modern, light filled Learning Lounge in central Glasgow. We'll even arrange lunch.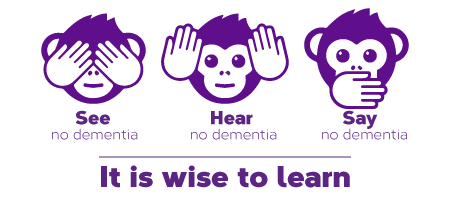 Dementia is everybody's business give us a call to discuss the learning needs for your organisation
Susan Rendell
Dementia Learning Agent | Quality and Workforce Development 0141 410 1178 | 07917 849193
Alzheimer Scotland, 81 Oxford Street, Glasgow, G5 9EP
Janice McGhie
Workforce Development Co-ordinator | Quality and Workforce Development | 0141 410 0107
Testimonials
Susan presented a training session to a group of our solicitors and paralegals with a view to us recognising and knowing how to support clients with dementia. It was a complete eye-opener. Susan's frank, emotional and incredibly well-informed presentation had us all completely engaged and we learned so much about the issues facing people with dementia, their families and their carers that we will hopefully be able to play a small part in easing some of those difficulties should legal advice be needed. I would recommend similar training to all professional organisations as dementia awareness can only benefit everyone.
Laura Blane, Partner, Thompsons Solicitors
I would not hesitate to recommend Susan to any organisation and I can honestly she has been one of the best external training facilitators we have used. "The training enabled me to gain an understanding of the different types of dementia and how it affects the brain and behaviours, it' s highlighted my need to use person centred approach within my group" I am happy to be contacted directly if you would like any more information"
Janice Wilson, Training Facilitator. People's Postcode Lottery
Examples of the training people in Health & Social Care; in housing and in public facing businesses have benefited from:
Engaging and supporting people with Dementia
Learning Outcomes:
Understanding the main types of Dementia
The symptoms
The effect on the individual
Communication & Person Centred Care
Techniques to support staff to support the individual with Dementia
In addition, participants explore techniques to help them to connect with people with dementia; including how to use person centred planning tools to support people with dementia to retain their independence through meaningful engagement
Enabling Environments
Learning Outcomes:
Interactive session looking at design of rooms in a home for a person with dementia.
Promoting Excellence Framework

Skilled Level Learning Outcomes:
All modules which describes the knowledge and skills required by all staff that have direct and/or substantial contact with people with dementia and their families and carers.
Enhanced Level Learning Outcomes:
All modules that outlines the knowledge and skills required by health and social services staff that have more regular and intense contact with people with dementia, provide specific interventions, and/or direct/mange care and services.
Stress & Distress
Learning Outcomes:
Understand how changes in the brain impact on behaviour and communication.
Identify potential triggers which can contribute to people with dementia feeling stressed & distressed.
Improved skills in supporting people with dementia who experience stress and distress.
Dementia & Sexuality
Learning Outcomes:
Examine the importance of sexuality in dementia care
Illustrate awareness & understanding of the diverse nature of sexuality
Demonstrate confidence & skill when supporting people with dementia to express their sexuality
Feel empowered to balance individual rights to sexuality with staff's right to a safe working environment
Navigate the complexity of consent, and feel confident continuing to do so in their role.
Understand the importance of including sexuality in care planning processes.
Feel enabled to understand individual sexual needs and how these may be expressed in behaviour and support people to manage these needs appropriately.
Younger Onset Dementia & Rarer dementias:
Learning Outcomes:
An understanding of the signs and symptoms of rarer dementias
How they affect younger people
How can we support a person with Younger Onset Dementia?
For further information please contact:
Susan Rendell, Demential Learning Agent or Janice McGhie, Workforce Development co-Ordinator
Title

Dates

Location

Overview

Sorry, no courses found.