Morag's story
Dementia can be so lonely, whether you have the condition or are a carer. When Ian received his diagnosis Alzheimer Scotland became a lifeline for us.

It would mean the world to us if you could help them build the foundations of the Virtual Resource Centre. Please give our family, and thousands more like us, the gift of knowing Alzheimer Scotland will continue to be here for us when we need them the most.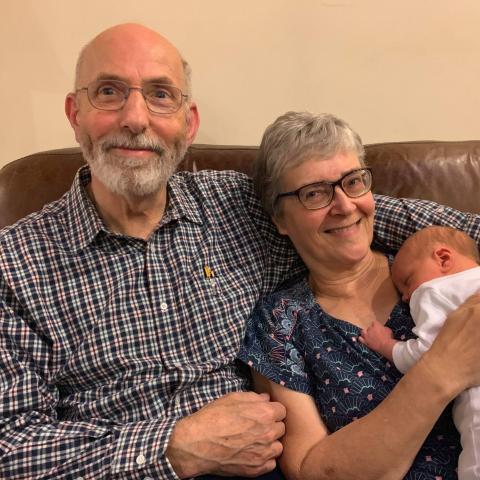 For 40 years, Alzheimer Scotland have been making sure nobody faces dementia alone.
 
Whether that's through our locality support or our 24 hour Freephone Dementia Helpline we have always aimed to be there at every stage of a dementia diagnosis.
But in some cases that can be really difficult. For some people, mobility or distance means they can't access our local support. For others, they don't feel ready to speak openly on the phone or face-to-face about the impact of dementia.
This is why we're creating the UK's first Virtual Resource Centre. An online space where people will be able to benefit from all of the offerings of a Dementia Resource Centre in the comfort of their own home. There will be access to our groups and activities; such as Music Memories, a zone specifically for carers, the ability to chat to a Dementia Link Worker or Allied Health Professional and most of all; the comfort of knowing you're in a safe space.
Dementia doesn't pause, and neither will Alzheimer Scotland. The Virtual Resource Centre will be there for you no matter where you are in the world, or what time of the day it is. When you're having a good day, it'll be there to share in that moment and when you're having a bad day it will put its virtual arms around you.
We've produced a short video which answers some of the most frequently asked questions on the Centre. You can watch the video here.
Support the Virtual Resource Centre
Alzheimer Scotland's people are our foundations, the same way that every building's bricks are its foundations. It's important to us that it remains that way, especially in the digital world and we want our dementia community to be at the very heart of our Virtual Resource Centre.  
This is why we've launched our virtual brick appeal. By buying a brick, you will be part of something special; you will have contributed to a UK first. You will be making a difference. You will be the virtual bricks that hold our centre together.
Each brick bought will grow and strengthen the Virtual Resource Centre. There is no completion date; it will develop in the same way our physical support develops.
If you like what you've seen so far, and would like to support us to build this fabulous new space, please consider buying a virtual brick to help build it.
There are three tiers of donation; £10, £25 and £50
A £10 donation gives you a basic brick
For £25 you can add your name, or the name of a loved one and will be built into the Centre
For £50 you can add a dedication message and a photo* to your brick.  The message will pop up when clicked, and image will be displayed within the Centre.
You can now buy your bricks via Paypal, however please follow these links: £10, £25, £50.
*Photos will be moderated before upload and you must have consent to use the image.
Help us be there, even when we can't be there. 
Get updates on the progress of the Virtual Resource Centre