Dundee Dementia Resource Centre
What we offer
Day care (Wednesday - Saturday)
Information (Resource Library)
Dcafe - Dundee Resource Centre, 9 Morgan Street, Dundee, DD4 6QE. Held every Monday - 10.30am-12.30pm
Dcafe - St Aidan's Centre, 408 Brook Street, Broughty Ferry, Dundee, DD3 7JW. Held last Tuesday of the month - 10.30am-12.30pm
Dcafe - St Mary's Community Church, St Kilda Road, St Mary's, Dundee. Held 2nd Thursday of the month - 2.00pm-3.30pm
Contact
Contact

Brenda Stewart, Service Manager

Address

Alzheimer Scotland, 9 Morgan Street, Dundee, DD4 6QE

Phone

01382 210200

Email
News
Dundee Dementia Resource Centre Newsletter
Digital Stories
The Early Stage Service in Dundee was privileged to be part of an exciting project to create digital stories which are to be used to teach student nurses at Abertay university.
The individuals who access our service were supported to share their memories, record a voice-over and provide photographs to illustrate their own personal stories. The project gave people a sense of purpose and achievement, with improvements in peoples confidence, well being and speech.
The stories were launched at Abertay University during Dementia Awareness Week. The launch allowed service users, their families and Health and Social care professionals to come together and celebrate these powerful stories and discuss their feelings together. All participants were presented with a copy of their personal digital story.
Watch the digital stories…

Making the most of life
Trained as a solicitor, Aileen turns her memory to good use recalling family stories. Speculating as to whether stress and Alzheimer's are linked, she nevertheless tries to make the most of life, like her mother and grandmother before her.

The lad fae Norrie's Pend
His sense of humour is undiminished as Alex looks back at various incidents in his life, laughs at the tricks his memory plays now at the Bookies and the shops and looks forward to the future.

It's home
Bill's love of sports (especially football), travel and keeping busy and happy memories of army service in Korea nevertheless lead him to conclude that home is the best place to be.

Some things don't change
Bubbly, attractive and vivacious, Etta has lived life to the full, driving interesting cars, running amusement arcades and travelling around the world. For as long as she can remember, she has always loved food, although these days it's harder to remember what she likes.

It's the art
Gerry reflects on art, the links between art and humanity, and the meaning of art in his life, As he struggles to take in his diagnosis of dementia, Gerry appreciates the care and kindness at the centre, and being with others in the same boat – and knows that art and music will keep him connected to the world.

It's a different world
Once a popular and confident speaker, loss of the ability to speak easily has been one of the worst aspects of dementia for Rob. Now, laughing and smiling, he reflects that a world without a memory can still be a happy one.

Still fit
Strong and healthy as a young man, Wallace has always loved sport and being outside. His loss of vision has meant that he has had to find other ways to exercise, but he still manages to keep fit – and positive.

Caring
There was never much question about what Wendy would do for a career. From her earliest days, caring came naturally to her and she was determined to work to the highest standards, despite the parsimonious attitude of private care home managers. Nowadays, working in the voluntary sector, Wendy continues to care for people with dignity and respect, while feeling valued and respected herself.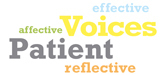 The stories were collected as part of the
Patient Voices
program, which harnesses the power of patients' and service users' stories to inform health and social care practitioners and improve health education. There are now
over 250 stories
on their website
Early Stage Dementia Group – Photographic Project
The Early Stage Dementia Group offers a service of individual support, activities and learning opportunities for people in the early stages of dementia.
The ST/ART SHOOTING! photography project has given an opportunity for participants to learn new skills and take some great photographs. Working with professional photographers the group shot portraits of each other in the studio at Dundee Community Arts centre and a wide range of photographs on a trip to Dudhope Park. They selected, manipulated and printed their own photographs and favourite images were displayed at the Tartan Coffeehouse.
The Early Stage Dementia Group is supported through Alzheimer Scotland's Dundee Service and is funded by the Big Lottery Fund.