Do your own fundraising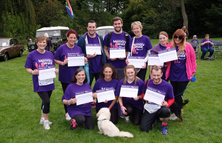 Thank you for choosing to fundraise in aid of Alzheimer Scotland. Today it is estimated that 90,000 people are living with dementia in Scotland.
No matter how much you raise, you will be helping Alzheimer Scotland fund Dementia Nurses, Dementia Advisors, our 24 Hour Dementia Helpline and our Dementia Research Centre. These vital funds will help support people with dementia and their families in their local communities.
We're here to help
We know that, whether you're new to fundraising or an old hand, raising money can sometimes be a challenge. Our online resources are designed to help you have fun and hold a successful event. You can also contact our Fundraising Team for help and advice by emailing [email protected] or calling 0131 243 1453.
Click here to download a Sponsor Form
An important note about Gift Aid - Please ask anyone who sponsors you to read the notes on the Sponsor Form and complete the form legibly in CAPITALS, giving their title, forename, surname, full address, including house name or number, postcode and the date they gave the gift. Unfortunately we cannot apply for Gift Aid for gifts given by joint names e.g. Mr & Mrs A Jones.
Get in touch to receive your free online Fundraising Toolkit.
Create your own posters, flyers and images for social media, tailored to your event, and view our top tips for running a safe and successful event.
Click here to visit JustGiving.com
Fundraising Made Easy Online - Now you can raise your sponsorship without breaking into a sweat. No more dealing with cash and cheques, no more chasing up your friends after the event. Simply create a free online fundraising page, personalise it with a message, and email it to your friends, family and colleagues. They can donate quickly and securely online with a credit or debit card.

We love talking to fundraisers so make sure you get in touch by telephone on 0131 243 1453 or by email to [email protected]
Please Note:

You are undertaking this fundraising activity IN AID OF Alzheimer Scotland at your own risk. Alzheimer Scotland does not provide insurance and cannot accept liability for any loss, damage or injury suffered by you or anyone else as a result of taking part in your fundraising event. It is our recommendation that anyone under 18 is accompanied by an adult. Please contact the Do Your Own Fundraising Team on 0131 243 1453 or at [email protected] for further advice on this.