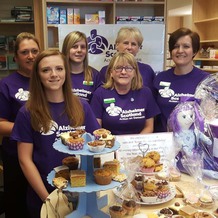 Choose Alzheimer Scotland as your Charity of the Year
With 90,000 people living with dementia across Scotland, there has never been a greater need for your support. Working together we can make sure nobody faces dementia alone.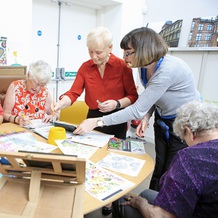 If your company selects Alzheimer Scotland as your chosen charity we will work with you to create a bespoke calendar of engaging events, tailored to help meet your business goals and corporate responsibility needs.
By partnering with Alzheimer Scotland, you can offer your staff a great opportunity to get behind a relevant and worthwhile cause. Our dedicated team of fundraisers will be on hand to
harness their passion and support them to get involved in workplace fundraising, volunteering and challenge events!
We can also work with you to increase understanding of dementia through our Dementia Friends awareness raising programme, as well as supporting your business on a wider scale to make it easier for customers, clients and staff who may be affected by dementia.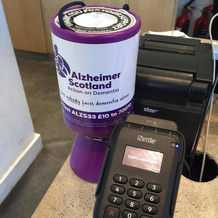 If you would like to become a Charity of the Year partner, please contact our fundraising team for more information.
How you can support us
There are many different ways you can support us as part of a corporate partnership. Just a few examples are;
Your support can help a number of projects, such as our: Dementia Advisors, Community activity groups, 24h Helpline, Dementia Nurses, Carer support groups,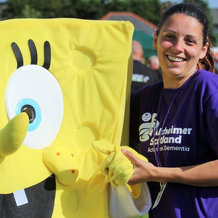 How we can support you
From your initial enquiry to developing the right partnership for your business, our fundraising team is on hand to support you and make our partnership a success.
We believe that whether you are a small independent newsagent or a national company – we have the skills, resources and passion to understand your business needs, engage with your employees and create a partnership with a lasting legacy.
You will be supported by:
a dedicated contact who will set out objectives for the partnership, inspire you with ideas and be in regular contact keeping you informed on all aspects of the partnership
our suite of fundraising materials, from collection tins and T-shirts to posters and balloons
Seasonal fundraising toolkits
Press and PR Support
Dementia Friends and our Dementia Engagement team
Contact us
Corporate Fundraising Team: