Amazing Audrey and the Global Odyssey Challenge
Wednesday 9 May 2018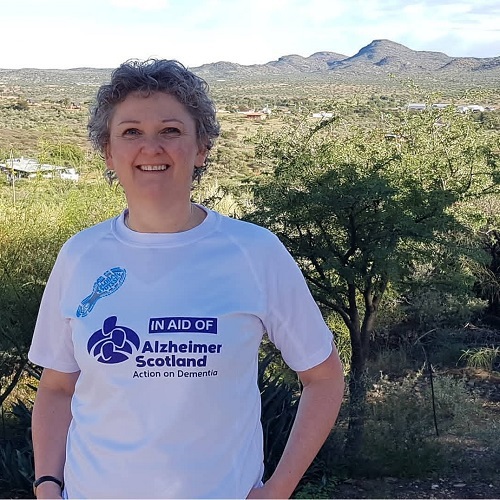 Ultra-marathon runner Audrey McIntosh has raised over £34,000 for Alzheimer Scotland in recent years by setting herself extreme challenges as part of her Global Odyssey Challenge to run 100k in every continent.
The 54-year-old mother of two took up running in her 30s when her husband was unwell starting with 5k and 10ks and caught the running bug.
Before long Audrey was running all over the country and in 2013 made running history when she became the first Scotswoman to complete 100k in Antarctica.
In the last few weeks Audrey flew out to Africa to take part in the Namibian Odyssey 100k run as part of her global running challenge and the next step in the Odyssey will be the Gobi 100k ultra-marathon in Asia on 12 August. In the autumn Audrey will also re-attempt for the African leg of the challenge having had to exit the run due to heat exhaustion.
Audrey recently featured on STV2's Live at 5 daily entertainment show with presenters Jennifer Reoch and David Farrell, to share news of her Global Odyssey Challenge and why she is raising funds and awareness for Alzheimer Scotland.
Audrey said: "I was looking for an extreme challenge which would challenge me physically and mentally. After completing the Antarctic 100k I thought why not run an ultra-marathon on every continent.
"I have been raising money for Alzheimer Scotland since 2013 when I completed my Antarctic ultra-marathon.
"It gives me greater motivation if I'm raising money for a charity which I have a connection with and dementia is a cause which is close to my heart as it has affected my family and my husband's family." To watch Audrey's interview with STV visit the STV Player for episode Wednesday 2 May - https://player.stv.tv/episode/3n87/live-five/
If you would like to donate to Audrey's Just Giving page visit www.justgiving.com/fundraising/audrey-mcintosh1
Why not join #TeamAlzScot and challenge yourself to take part in a sponsored event in 2018. Whether you're taking part in your very first 5k or running your 50th marathon, we'll be there to support you.
Visit the Alzheimer Scotland fundraising events page here www.alzscot.org/fundraising/events/sponsored_events or if you have any questions about sponsored events, please call the events team today on Tel: 0131 243 1453 or email events@alzscot.org