Bellahouston Park allotment refurbishment
Monday 30 April 2018
Our allotment at Bellahouston Park is getting a facelift this year, thanks to a £6756.78 sponsorship from HSBC. Families living with dementia will benefit from much needed site improvements including extended paved areas with ramp access; building a large storage shed; adding additional seating and raised beds; and erecting a covered pergola.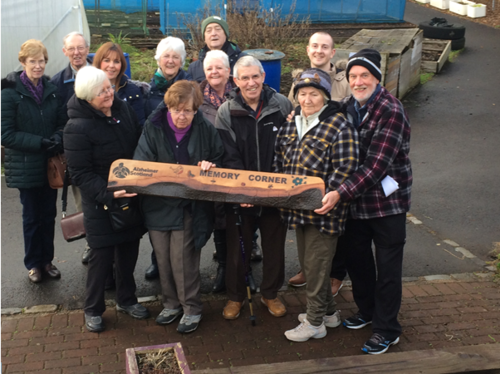 A dedicated allotmenteer Willie Caldwell has benefited greatly from this project. "I look forward to taking Anna to the meets at the allotment every week and can't wait to see the improvements. The allotment means a lot to us – I am interested in gardening and we learn a lot from talking to friends who attend. Meeting others who are in the same boat as us helps us get through the day, something which can occasionally be quite challenging. We look forward to visiting the allotment in 2018 and hope that we have good weather to reap the benefits of fresh vegetables."
The group has inspired Willie to take up new hobbies such as pyrography (etching images on to wood) and last year he made us a sign for our new shed. The couple go to a Craft Café in Govan run by Impact Arts where Willie has been drawing, painting and learning to use a sewing machine. Not to be outdone, Anna has produced a magnificent oil painting which hangs proudly in their living room and this has even been made into Christmas cards.
As a Dementia Advisor, Polly Mark, has been involved in the allotment project going into its seventh year, I am absolutely delighted for the group. So many people have enjoyed gardening here and now with the improvements more families can continue to benefit from this legacy.
To see Polly and Chris in action watch the Horticultural Therapies video