United for Alzheimer Scotland
Wednesday 8 August 2018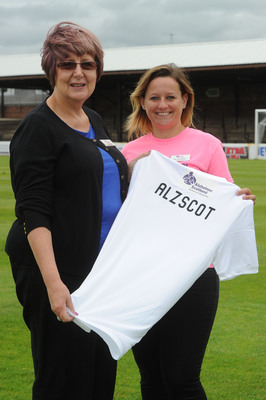 Alzheimer Scotland will feature on the back of Ayr United's new home strip for the 2018/19 season as part of the club's drive to support dementia locally.
The decision to choose a charity for the strip was handed back to the club by diehard Ayr United fan Stewart Hay who won the recent Shirt and Shorts draw.
United revealed close links to the charity with club legend Ally MacLeod passing away after a long battle with Alzheimer's disease as well as their former chairman and Honorary President, Donald Cameron. Over the past three years Alzheimer Scotland has also worked alongside the club to deliver football memories sessions offering fans the chance to visit Somerset Park to enjoy afternoons of reminiscing.
Welcoming the decision Julie Sinclair, head of localities for Alzheimer Scotland, said: "There are over 2500 people in South Ayrshire with dementia and this is a fantastic way to raise awareness about our work.
"Football holds a special place in Scottish life and fans and communities often have a strong emotional connection with the football clubs they support. We have seen first hand the power of this connection in supporting people with dementia who participate in football reminiscence through football memories groups across Scotland we support through Sports Heritage Scotland in partnership with the Scottish Football museum and other partners.
Find out more about football reminiscence groups in your area.