How Self-Directed Support worked for us
Tuesday 2 April 2019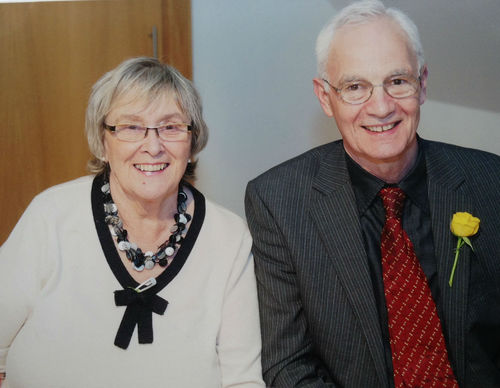 By Michael Turnbull, Carer
In 2012, my wife Mary was diagnosed with frontotemporal lobe dementia and aphasia, aged 73. At first Mary saw a psychiatrist three times a year and had input from both a Community Psychiatric Nurse and Speech and Language Therapist. However, once these medical interventions had run their course, Mary was discharged.
Mary tried day care but it didn't suit her needs. The way she communicated this was interpreted as aggressive behaviour and led to her not being allowed to go back. Similarly, Mary had a difficult time getting used to the home care staff. Unfortunately, the care agency then withdrew their services for a week without explanation. Discharged from medical care and important social networks, it felt like opening a door onto a featureless landscape where there were no road signs, without a map.
I began to look in to other ways to help care for Mary and came across Self Directed Support (SDS) in 2014 from a carers organisation. One of their staff met me at home with a care broker from the local authority. Mary's needs fitted into the 'critical' category of their criteria. The care broker said Mary's personal care would be funded however important social opportunities, like going to the gym or the pool, wouldn't be funded.
We chose Option 1 of SDS which put me, as Mary's Power of Attorney, in the position of managing her direct payments. I approached Lothian Centre for Inclusive Living (LCIL), an organisation that supports people who use SDS to help me advertise for a number of Personal Assistants to supplement the staff who would continue to support Mary with her personal care. They also helped me by calculating balance sheets, generating pay slips and dealing with HMRC.
The first Personal Assistant (PA) started supporting Mary two years ago. Each PA who works with Mary has a unique set of skills and abilities, and they have all worked together to provide her with the consistent, yet flexible, support she needs.

Most importantly is the benefit the PAs have been to Mary. She has built a relationship with them and can trust them, and they understand how to communicate with her. The PAs enable Mary to do the things she enjoyed before she was diagnosed with dementia, such as going to the gym, swimming and art. Mary created some incredible abstract pictures that appeared to reflect her understanding of dementia — they're going to be exhibited later this year. She now goes to a number of day centres and enjoys the variety of people she gets to meet. In between times we all suggest places we think Mary would like to go — and the PAs know her well enough to read her feelings about what they're doing, even if she's not always able to verbalise her choices.
Alzheimer Scotland, through their local Dementia Advisor and National Self Directed Support Manager have offered guidance at many stages of our journey. In 2018, they provided bespoke training to Mary's PAs. A person who understands more about dementia can see various reasons why a person might be acting or feeling a particular way; and they have an awareness of various options to support the person accordingly. The PAs are now even more responsive to Mary's needs.
When you manage your direct payments, your situation should be reviewed annually. In our case no one from the local authority had seen Mary since the original assessment in 2014. As a result we were paying a significant amount of money to supplement the allocated budget. I contacted the Minority Ethnic Carers of People Project (MECOPP), an organisation which specialise in legal support for carers and families. Their 3 R's Project provides advice and information on legal rights under SDS, human rights and equalities legislation. Following their intervention Mary's care needs have been reviewed, her direct payments have increased, and her PAs continue to provide the support that has made such a difference to Mary's quality of life and her experience of dementia.
Although choosing Option 1 requires patience and a lot of resilience I would definitely recommend direct payments. Ultimately it has enabled me to personalise Mary's support and I can see day-to-day how much happier she is. I can understand why people might be reluctant to challenge the support they are offered, or try something new. They don't want to make their private life public; it can also be complicated and time-consuming; but in my experience it improved our situation. Not only did it make the review possible and increased the amount of money Mary receives but it lets local authorities hear the voices of people using the structures they have in place, so they can continue to develop them to work for everyone.
If you would like to find out more about Self-Directed Support please click here.