Day services and opportunities
Our day services and day opportunities specialise in supporting people with dementia, through therapeutic activities. They help people to maintain their skills so that they can stay independent for as long as possible and feel good about themselves.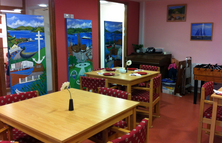 You don't have to have a carer to attend a day serviceor benefit from day opportunities.
Our day services and day opportunities offer a wide range of activities, including life story work, exercise to music, painting and craft work, musical activities, gardening, baking and discussions. We organise outings based on people's interests – for example theatre, bowling, garden centres or places of interest.
Carers can also benefit from time to themselves while the person they care for enjoys the activity. Some of our centres also offer sessions in the evenings or at weekends.
How do I access day services?
In most areas people are referred to our day services by the social work department. However, day services and day opportunities can be purchased directly from Alzheimer Scotland. To find out more search below for your local contact.
Use the search above to find a service near you. Below is a list of all Alzheimer Scotland's services