The 24 hour Dementia Helpline is a freephone Scottish service for people with dementia, carers, relatives, professionals, students and anyone concerned about dementia.
I'm having trouble remembering things; could it be dementia?
The Dementia Helpline is confidential, and you don't even have to give your name if you prefer not to. We provide free information packs to people with dementia and their carers.
My mother's not paying her bills. Is there anything I can do to help?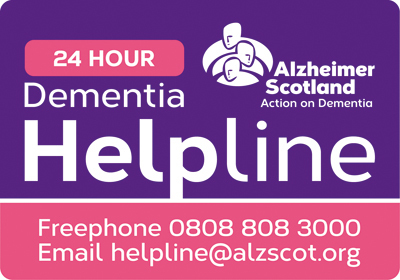 Please note: if you are calling from an ex-directory number dial 1470 before dialling the helpline number
Email us: helpline@alzscot.org
Call us at any time for information and support on:
rights and entitlements
coping with behaviour
community care
long-stay care
anything else to do with dementia.
understanding the illness
treatments
how to get help locally
maintaining independence
financial & legal matters
I'm a social worker supporting a carer who needs a break...
About the Dementia Helpline
The freephone Dementia Helpline provides information and emotional support to people with the illness, their families, friends and professionals.
The Helpline is staffed by trained volunteers supported by a staff team at Alzheimer Scotland. Many of the volunteers have had personal or professional experience of caring for people with dementia.
The Dementia Helpline can provide information right away on many questions or concerns. We can send out free information to carers, family members or people with dementia. We have a panel of expert advisers who help answer more complex enquiries.
Leaflet: About the Dementia Helpline (pdf)
I promised my mum I wouldn't put her in a home but now I'm not well myself...
Where can I find some help caring for my wife?
If you are not satisfied
If you are not happy with the service you receive from the Dementia Helpline, we want to know. You can complain by telephone or in writing to:

The Helpline Manager
Alzheimer Scotland
160 Dundee Street, Edinburgh, EH11 1DQ
Email: eharley@alzscot.org
Tel: 0131 243 1453