Alzheimer Scotland's Five Pillars Model of Post Diagnostic Support shows there are five key elements which are essential to supporting people after their diagnosis.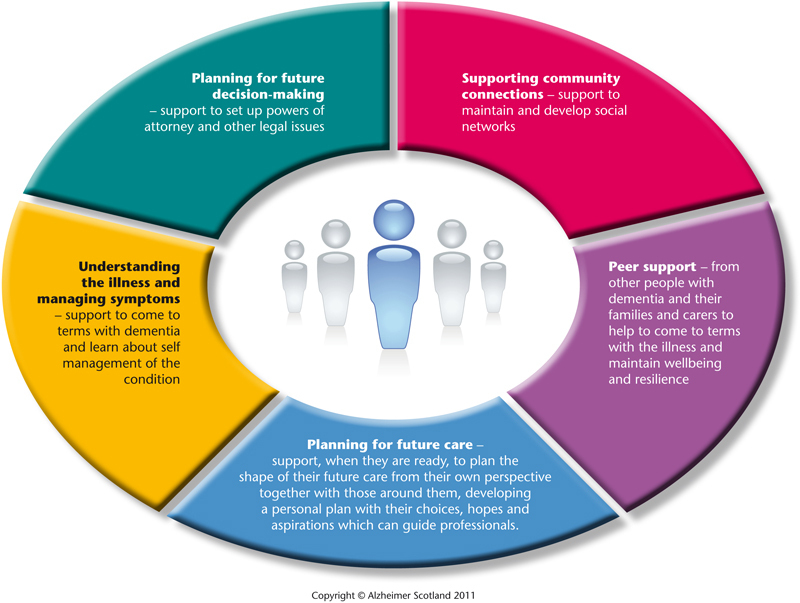 There is clear evidence that high quality post diagnostic support, provided over an extended period, is essential in order to equip people living with dementia, their families and carers with the tools, connections, resources and plans they need to live as well as possible with dementia and prepare for the future.
The purpose of the Scottish Government's Post-Diagnostic Support guarantee is to provide the security, for a minimum of one year, of a named person who has the flexibility to work alongside the person, their partner and family and ensure that over that 12 month period each person is given help and support to work through the five pillars.
By the end of the year it is expected that some individuals might require ongoing professional support; however the purpose of the post diagnostic support is to enable the individual and their family to develop a robust personal plan that utilises all their own natural supports, that maintains newly developed peer support mechanisms alongside existing and new community connections and that will support each person to live well and independently with dementia for as long as possible.
It is imperative that post diagnostic support is personalised and flexible, and delivered proactively and sensitively over the course of a year by a skilled and well-trained person, who can develop a supportive relationship with the individual and their partner and family. There is no preferred systematic order in delivering this support; each person will need a unique approach and professionals will need to identify when that person and their family are ready to engage in each area.