Influencing Public Policy
About Alzheimer Scotland's public policy work
Alzheimer Scotland works nationally and locally to make sure that noone faces dementia alone.
This means working with the Scottish Government, Local Authorities, Health Boards, Integrated Joint Boards, universities, businesses, community groups and the public so that as many people as possible are aware of dementia and know the how they can help people with dementia live well with the condition.
A key aspect of our public policy work is making sure that people who make decisions about policy, strategy, services and legislation see dementia as a priority. and understand what is needed to ensure people are well support.
We also work to make sure that decision makers listen to people with experience of the condition when making decisions which will impact on people with dementia, their families and carers.
Alzheimer Scotland's 'Vision for Change' are some key areas of focus for our public policy. These reflect the areas that people with dementia, their families and carers say matter most to them.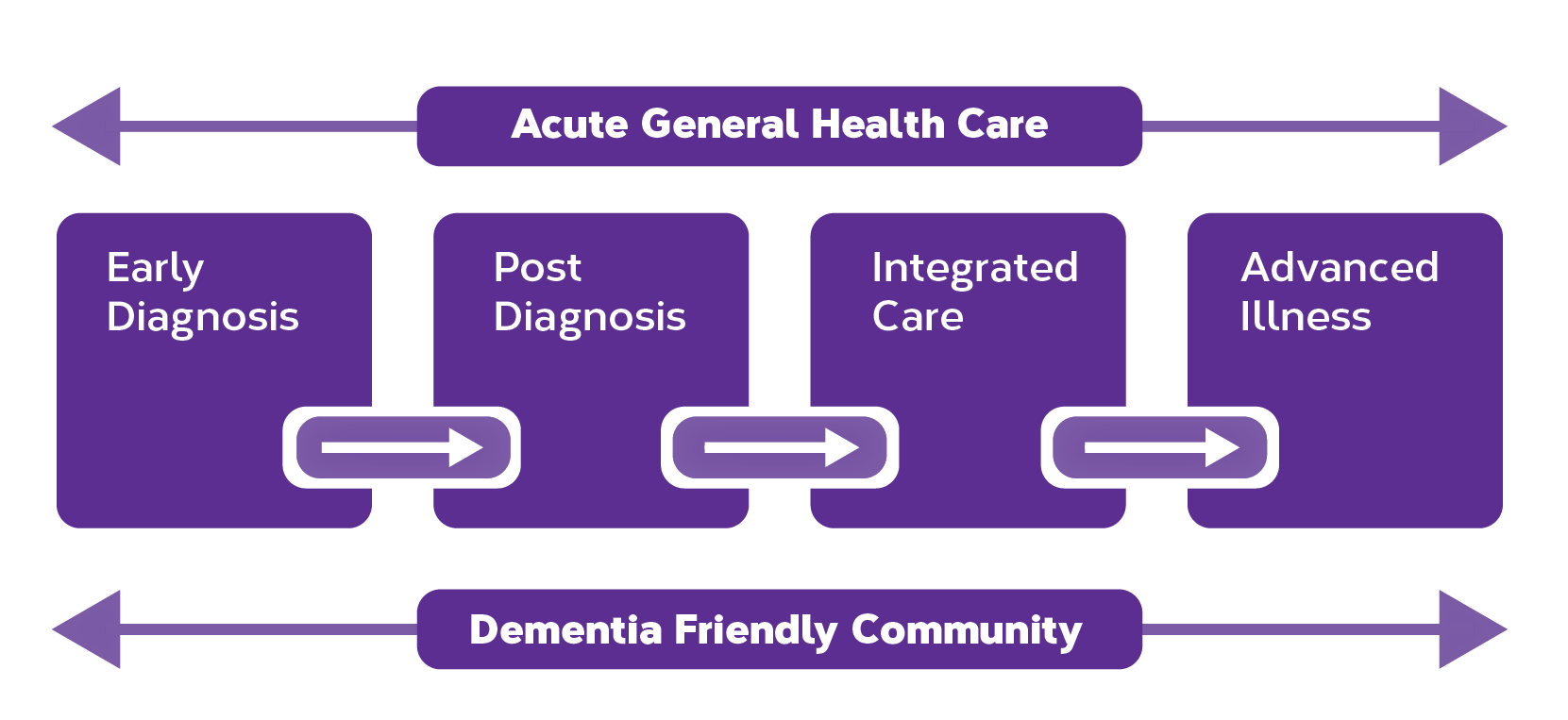 How do we develop our policy priorities?
Alzheimer Scotland has approximately 8,5000 members and supports people with dementia, their families and carers across Scotland.
The experiences and views of our members, including those Scottish Dementia Work Group, National Dementia Carers Action Network and local networks of people with dementia, and carers play an integral part in setting our policy priorities and informing the development of our policy reports.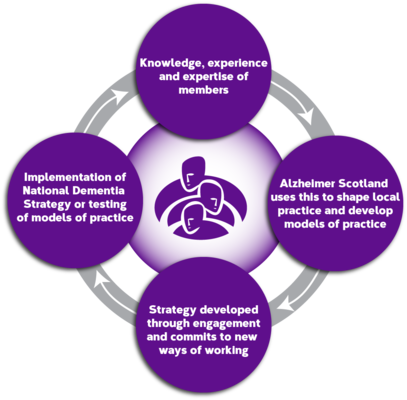 In response to our working with people with dementia, their families and carers, Alzheimer Scotland developed the 5 Pillars Model of Post Diagnostic Support, the 8 Pillars Model of Community Support and the Advanced Dementia Practice Model.
We involved people with lived experience throughout the process developing each model, then worked to encourage decision-makers at a local and national level to embed this way of working.
Rights-based approach
Both in our own internal policy development and influencing external public policy, we use a rights-based approach to make sure that people who will be affected by decisions around policy, strategy, services or legislation have the opportunity to be involved from the beginning.
PANEL principles are a helpful way to make sure people's rights are being upheld. These are:
P

articipation

- Everyone has the right to participate in decisions which affect them. Participation must be active, free, meaningful and give attention to issues of accessibility, including access to information in a form and a language which can be understood.
A

ccountability

- Requires effective monitoring of human rights standards as well as effective remedies for human rights breaches
N

on-discrimination and equality

- A human rights based approach means that all forms of discrimination in the realisation of rights must be prohibited, prevented and eliminated.
E

mpowerment

- Individuals and communities should understand their rights and should be fully supported to participate in the development of policy and practices which affect their lives.
L

egality

- A human rights based approach requires the recognition of rights as legally enforceable entitlements and is linked in to national and international human rights law.
Some of the ways we aim to influence change:
Alzheimer Scotland aims to public policy in a number of different ways including:
Meet with Scottish Government Ministers, key civil servants and decision makers at local and national levels.
Support local and national groups of people with dementia, their carers and families so their voices are heard in the development of policy and strategy.
Provide evidence to Scottish and UK Parliamentary Committees, including calls for evidence.
Actively participate and contribute to Scottish Parliament Cross Party Groups (CPGs), including providing secretariat for the. CPG on Dementia.
Campaign to gain the support of elected officials at a local, national and European level.
Publish evidence based reports.
Engage and work with partner organisations who have common aims at a local, national and international level, including responding to consultations.
Hold conferences and seminars with professionals and academics across disciplines in dementia policy and practice.
Get Involved...
Alzheimer Scotland could not be a force for change without the support and work of our members, people with dementia, their families and carers to help.
Whether through awareness raising, campaigning during an election or meeting with decision-makers and elected officials, our campaigning work is always more effective, more persuasive and more meaningful when it comes from people sharing their lived experience.
Local Campaigning
Alzheimer Scotland has more than 20 campaigning of people with dementia and carers Scotland, who are involved with our public policy work locally.
Each group works differently, setting their own priorities and interest on which they want to campaign. Some groups primarily are interested in awareness raising in their locality, whilst some focus on contributing to Alzheimer Scotland's internal work.
If you would like to find out if there is a campaigning group in your area, please contact the Dementia Advisor in your area. You can find out who that is by clicking this link.
National Campaigning
If you are a person with dementia
You may be interested in the work of the Scottish Dementia Working Group (SDWG): The independent voice of people with dementia within Alzheimer Scotland. The Group is run for, and by, people with dementia.
Find out more about the Scottish Dementia Working Group.
If you care for, or previously cared for a person with dementia
Alzheimer Scotland's National Dementia Carers Action Network (NDCAN) is a national campaigning and awareness raising group whose members all have experience of caring for someone with dementia.
Find out more about the National Dementia Carers Action Network
If you would like further information on any aspect of our campaigning work, please contact:
Email: [email protected]