A Human Rights-Based Approach to Dementia
Alzheimer Scotland campaigns to ensure that all legislation, policy and strategies affecting people living with dementia are underpinned by human rights. A human rights based approach is about making people aware of their rights, whilst increasing the accountability of individuals and institutions who are responsible for respecting, protecting and fulfilling rights.
The PANEL principles
There are some underlying principles which are of fundamental importance in applying a human rights based approach in practice. These are:
Participation - Everyone has the right to participate in decisions which affect them. Participation must be active, free, meaningful and give attention to issues of accessibility, including access to information in a form and a language which can be understood.

Accountability - Requires effective monitoring of human rights standards as well as effective remedies for human rights breaches

Non-discrimination and equality - A human rights based approach means that all forms of discrimination in the realisation of rights must be prohibited, prevented and eliminated.

Empowerment - Individuals and communities should understand their rights and should be fully supported to participate in the development of policy and practices which affect their lives.

Legality - A human rights based approach requires the recognition of rights as legally enforceable entitlements and is linked in to national and international human rights law.
Charter of Rights for people with dementia
The Charter reflects the standards already set by the United Nations and other international instruments by recognising: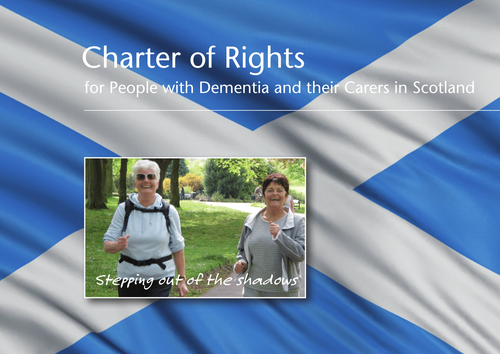 the need to promote and protect the human rights of all persons with disabilities, including those who require more intensive support

that persons with disabilities must be guaranteed the fullest possible realisation of their human rights including an opportunity to participate in and contribute to society, and where necessary, with the highest attainable standard of care

that discrimination against any person on the basis of disability is a violation of the inherent dignity and worth of the human person.
Download the Charter of Rights
Standards of Care for Dementia in Scotland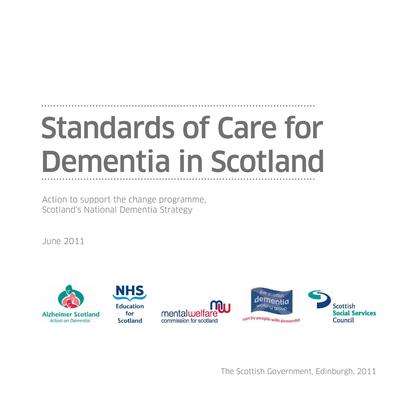 People with dementia retain the same rights as anyone else in society but the nature of their illness means that they often have great difficulty in protecting their own rights.
There is still stigma and discrimination against people with dementia and they and their carers often feel that they are treated with less respect, dignity and understanding than other members of society.
Standards of Care for Dementia in Scotland were developed which relate to everyone with a diagnosis of dementia in Scotland regardless of where they live, their age, the supports they receive or the severity of their illness.
This includes younger people, people with a learning disability and people with rare types of dementia. They apply to people living in their own homes, care homes or hospitals, especially general hospitals.
Download the Standards of Care
Guide to the Standards of Care for Dementia in Scotland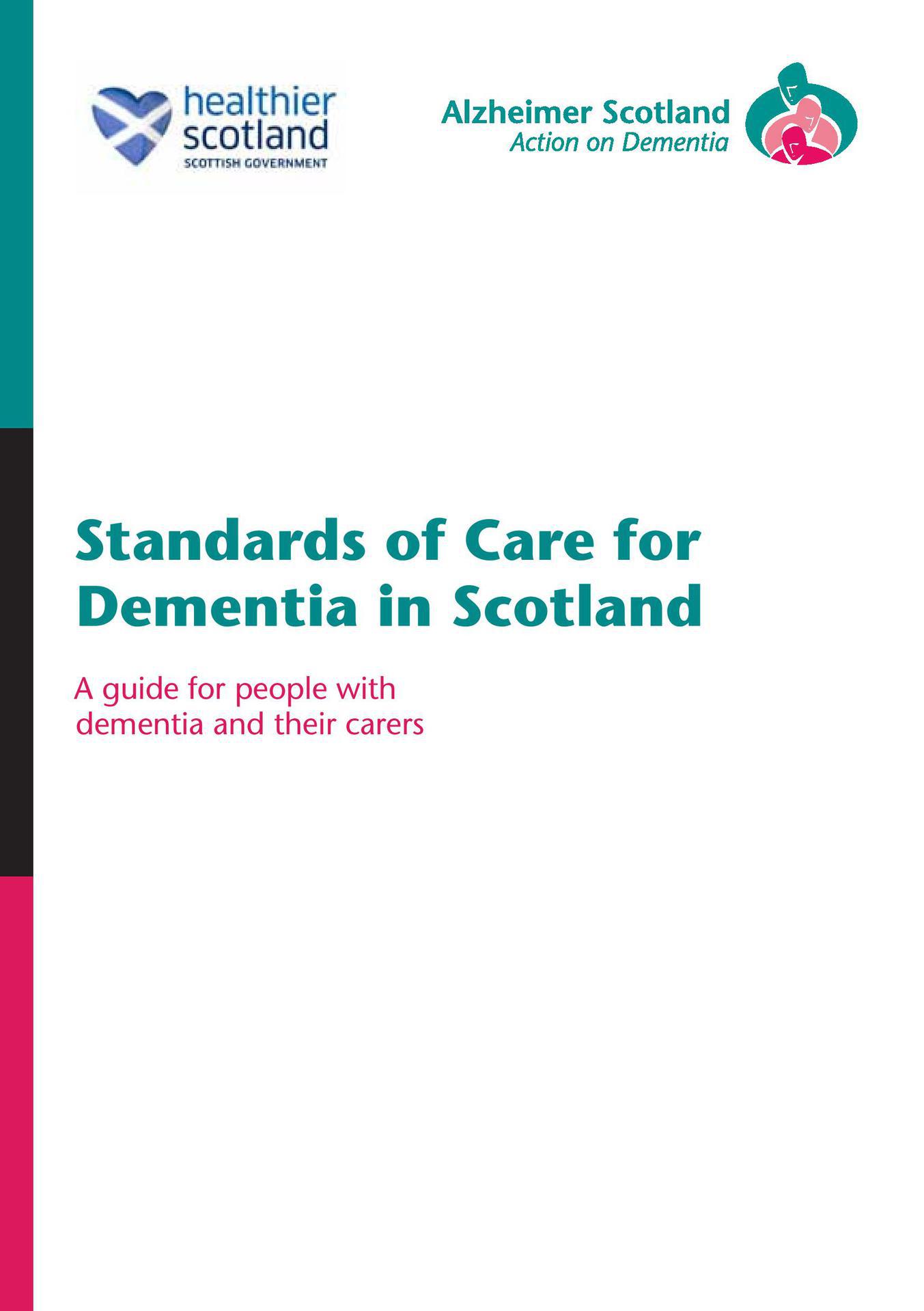 Alzheimer Scotland has produced a short guide to the Standards of Care which explains for people with dementia and their families and carers what their rights are and the quality of care, support and treatment people should receive to stay well, safe and listened to.
The guide sets out how people can use the standards to make sure the services they receive meet the standards, and what to do if they are not happy with the standard of care, support and treatment provided.
Download the Guide to Standards of Care for Dementia in Scotland
Guiding Principles
The Charter is also guided by the relevant general principles in the following:
UN Convention on the Rights of Persons with Disabilities
The UN Convention on the Rights of Persons with Disabilities (UNCRPD) is the first human rights treaty of the 21st Century setting out and affirming the rights of people with disabilities.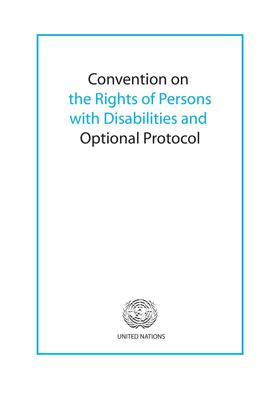 The UK Government ratified the Convention in 2009, signaling its commitment to comply with the legal rights and obligations contained in the Convention. In addition, the Government has also ratified the Convention's Optional Protocol'.
The key principles of the United Nations Convention on the Rights of Persons with Disabilities (UNCRPD) are as follows:
respect for inherent dignity, individual autonomy including the freedom to make one's own choices, and independence of persons
non-discrimination
full and effective participation and inclusion in society
respect for difference and acceptance of persons with disabilities as part of human diversity and humanity
equality of opportunity
accessibility
equality between men and women.
Download the UNCRPD and Optional Protocol
Adults with Incapacity (Scotland) Act 2000
benefit the person
restrict the person's freedom as little as possible whilst still achieving the desired benefit
take account of the person's past and present wishes (with appropriate support to assist communication)
take account of the views of relevant others as far as practical
encourage the person to use their existing abilities and develop new skills.
The Charter also reflects other legal provisions and in particular the principles of the Mental Health (Care and Treatment) (Scotland) Act 2003, and the Adult Support and Protection (Scotland) Act 2007.