Fair Dementia Care
The Fair Dementia Care Commission, established by Alzheimer Scotland, published the 'Delivering Fair Dementia Care For People With Advanced Dementia' report in January 2019.

The report sets out a firm definition for advanced dementia for the first time. It also identifies the inequality people living with advanced dementia face in terms of access to health care. Through the report the Fair Dementia Care Commission calls for a number of reforms, including equal access to free healthcare for people living with advanced dementia.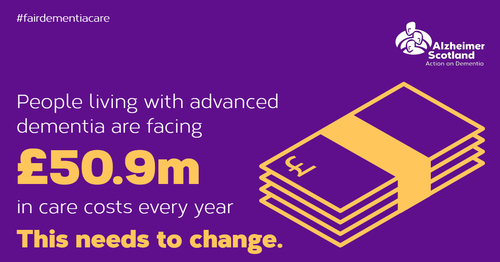 The report sets out the following recommendations:
That the Commission definition of advanced dementia is used and implemented in practice
That advanced dementia is recognised as a continuum which includes but is not confined to end of life and dying
That the Scottish Government commits to recognising that the needs of people with advanced dementia are health care needs and ensure equality of access to appropriate health and nursing care, which is free at the point of delivery
That the Scottish Government commits to investigating the costs of implementing appropriate and free health care for those living, and dying, with advanced dementia
That the Scottish Government, COSLA and Integration Joint Boards commit to ending the current lack of transparency, complexity and variability in current non-residential care charging provisions across Scotland
That the recording of dementia (including advanced dementia) prevalence across all health and social care settings is urgently required to support better understanding of demand, allocation of resources and improved care and support
That all local authorities/health and social care partnerships make local charging policies accessible and readily available
Parliamentary debate
On Tuesday 4 June, marking Dementia Awareness Week, the Scottish Parliament debated Fair Dementia Care. MSPs from all parties spoke out to support our campaign. If you want to read all the speeches, you can do so by clicking here, or if you want to watch what happened, you can watch the debate here.
In the end, a massive 53 MSPs supported the Fair Dementia Care motion. This would not have happened without the efforts of our campaign supporters asking their MSPs to back the campaign.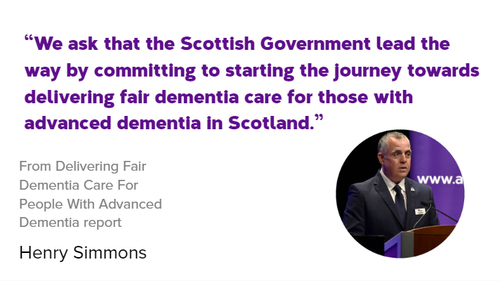 Support the campaign
Alzheimer Scotland will provide updates and ask for your support as we campaign for people with advanced dementia to have equal access to free healthcare just like other progressive illnesses in Scotland. To receive these updates and to support this campaign please sign up using the form below.
Your privacy is important to us. By completing this form you consent to us contacting you to keep you up-to-date about what we're up to – you can unsubscribe at any time. Read more on our Privacy Policy here. Your information will not be sold, traded, or otherwise made available to third parties.