Recently diagnosed?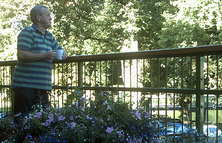 If you, or someone close to you has recently been diagnosed with dementia, there is support available.
The Scottish Government has guaranteed a year's post-diagnostic support for everyone diagnosed with dementia from April 2013. In many areas this is provided by Alzheimer Scotland's Dementia Link Workers on behalf of the NHS. In other areas post-diagnostic support is provided by NHS staff.
How do I access post-diagnostic support?
You can ask your doctor to refer you for post-diagnostic support, or use the search box on this page to find out if Alzheimer Scotland has a Dementia Link Worker or other post-diagnostic support in your area.
What is post-diagnostic support?
We provide five key pillars of post-diagnostic support , flexibly to suit you:
help to understand the illness and manage your symptoms
support to keep up your community connections and make new ones
peer support - the chance to meet other people with dementia and their partners and families
help to plan for future decision-making
help to plan for your future support.
Use the search above to find a service near you. Below is a list of all Alzheimer Scotland's services